#_LOCATIONMAP
Date/Time
Date(s) - 02/07/2016 - 03/07/2016
All Day
Anaesthesia Machines & Monitoring SANCON 2016
On July 2nd Sat & 3rd Sun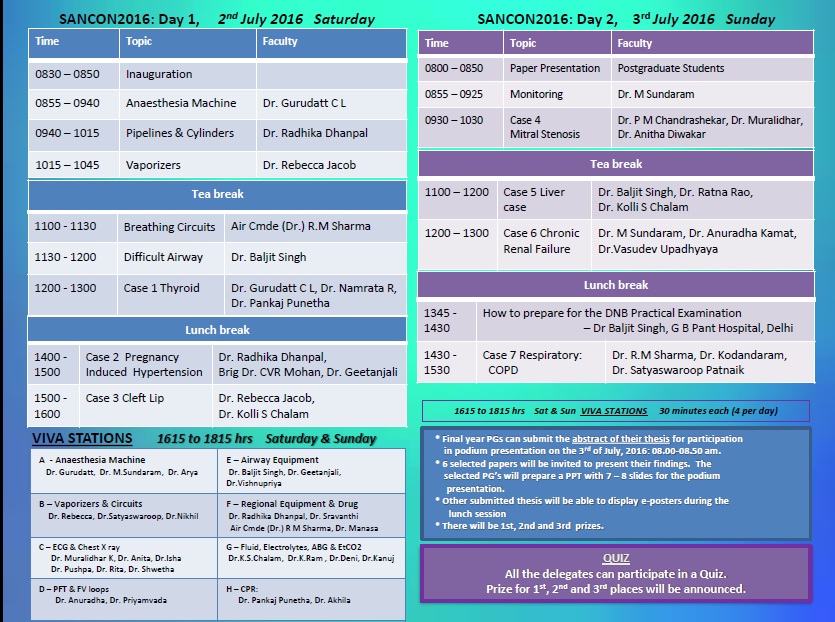 The 4th edition of SANCON2016 the conference ON ANAESTHESIA MACHINES AND MONITORING is scheduled to be held on 2nd and 3rd July 2016. It is two day conference with the objective of improving our knowledge on the Anaesthesia machine and Monitoring equipment, mainly for the PGs of MD/DNB/DA, and also practitioners. We have evolved the content of the conference based on the need for changes and also the feedback we received from the participants. Our target audience is now focused on the final year exam going postgraduates – DA, MD and DNB.
This year the focus remains Anaesthesia machine, Anaesthesia equipment and Monitoring. We have added Case presentations – both long and short cases. We have replaced the workshops with discussions on spotters (equipment and drugs) in the practical exam. We plan to include a difficult airway station for hands on by the participants. We have also added a competition for the postgraduates regarding thesis topics as both podium and poster presentations.
Venue :
Sri Sathya Sai Institute of Higher Medical Sciences
EPIP Area, Whitefield, Bangalore -560066
REGISTRATION
A registration fee of Rs 1000 will be charged to delegates. The payment options are as follows:-
a)Demand draft in favor of "SSSIHMS WHITEFIELD " Payable at Bangalore
b)NEFT Bank of India Account No 849810100000001 , IFSC Code No.BKID0008498 (please enter your name in the remarks column and also send the receipt to anaesthesiablr@52.148.87.145.inwith your registration details)
To register please fill the online form available at the link given below http://goo.gl/forms/6b5qnv9usg
Last date for registration: 15th June 2016
Accommodation to be arranged by the participants.
For assistance, Contact: Shravan Kumar M Mob: +91-9620207698
Email: anaesthesiablr@52.148.87.145.in
web page: www.sssihms.org
Organizing committee
Dr. KolliS Chalam, HOD
Dr. Pankaj Punetha Dr. GeetanjaliTulapurkar
Dr. AnithaDiwakar Dr. AnuradhaKamat
Dr. Sathyaswaroop Patnaik
To register please fill the online form available at the link given : http://goo.gl/forms/6b5qnv9usg