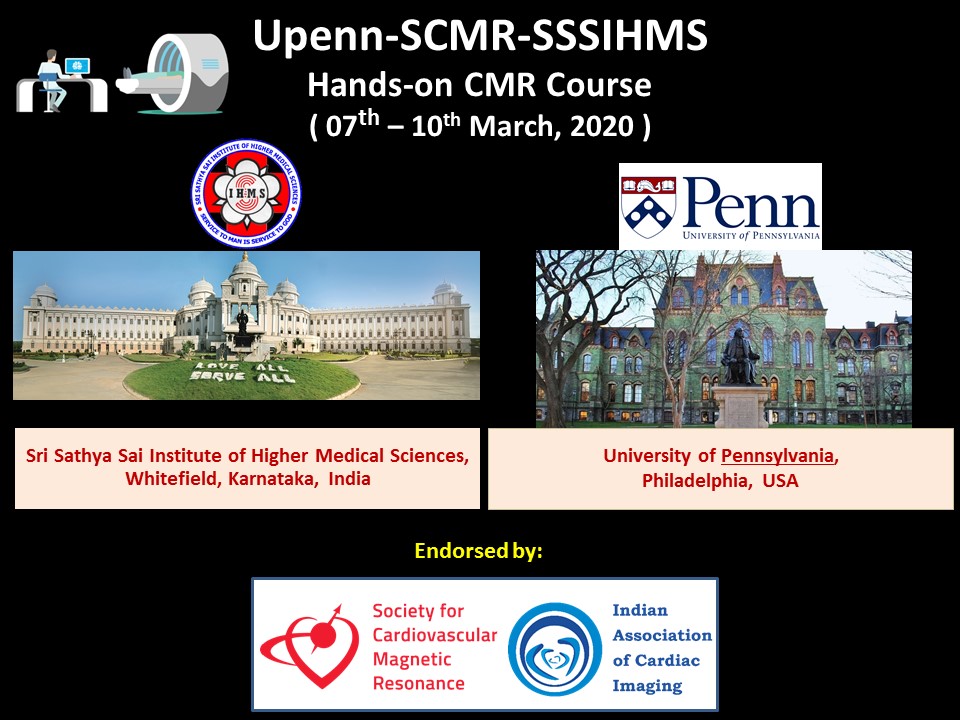 UPenn-SCMR-SSSIHMS Hands-on Cardiac MR Course
( A collaboration between SSSIHMS, University of Pennsylvania, Philadelphia, USA and SCMR)
The Radiology departments of Sri Sathya Sai Institute of Higher Medical Sciences, Prasanthigram and Bangalore, in collaboration with University of Pennsylvania, Philadelphia, USA and Society of Cardiac Magnetic Resonance (SCMR) are pleased to offer a 4-day Hands-on course exclusively on Cardiac MR.
Objective of the Course: 
Improve interpretations in an intense case-based format with hands-on real-time interpretations and observe real-time scanning opportunities.
Course Duration: 4 days

( Sat, 07th Mar  –  Tue, 10th Mar, 2020 )
Highlights of the course:
100 cases reviewed and interpreted during the course
Limited registration ensures high level of individual attention
Workstations with full basic and advanced cardiac application software (2-3 per workstation)
All delegates will spend time at the MRI console with live broadcast of cardiac MR acquisition.
Hands-on training from acquisition to interpretation to structured reporting on all 4 days.
Hands-on training of advanced post-processing techniques on dedicated Cardiac MRI workstations.
Highlights of the Faculty:
Experienced faculty from University of Pennsylvania, Philadelphia, USA
Experienced faculty sponsored by the SCMR
Experienced senior faculty from India and from the Indian Association of Cardiac Imaging (IACI)
NOTE: Registrations limited to only 50 participants on a first-come-first-serve basis.
Endorsement: 
Endorsed by Society for Cardiovascular Magnetic Resonance (SCMR) and Indian Association of Cardiac Imaging.
Target audience: 
All radiology and cardiology physicians who desire in-depth case-based learning to enhance interpretation of CMR.
Eligibility:
The course will be best suited for a practicing radiologist or cardiologist with a strong interest in cardiac MRI
Basic training and cardiac MRI experience such as IACI level 1 certification is preferred but not required.
Faculty:
 

 

Yuchi Han

MD, MMSc, FACC, FASE, FSCMR

                 Dr. Yuchi is an Associate Professor of Medicine in the Department of Medicine, University of Pennsylvania. She is Director of Cardiac MRI. After graduating from Princeton University's Department of Physics, she received a MD from Harvard Medical School. After her residency at Stanford University, she did her cardiology and advanced imaging fellowships at Beth Israel Deaconess Medical Center, Harvard Medical School, where she also received her Master in Medical Sciences for clinical investigation.  She is the winner of the American Heart Foundation Career Development Award. At the end of 2010, she moved to the Cardiovascular Medicine Division at the University of Pennsylvania, specializing in cardiac imaging. Her main research areas are myocardial tissue characterization, real-time imaging, valvular heart disease, and right heart disease. She has published nearly 90 articles and book chapters. She is the Associate Editor of the Journal of Cardiovascular Magnetic Resonance Imaging and Vice Chair of the International Outreach Committee on Cardiovascular Magnetic Resonance Imaging. She was the principle investigator on a Penn-China Cardiac Imaging project where she taught Level 1 CMR Training course in China.  She is now the Principal Investigator of Penn-India Cardiac Imaging project and is dedicated to promoting cardiovascular imaging training, research, and communication in India.

 

 

Ron Jacob

M.D., FACC, FASE, FSCCT, FSCMR

                       Dr. Ron Is the Director of Cardiac Magnetic Resonance Imaging at Lancaster General Hospital/PENN Medicine. He finished his Residency, and Fellowship in cardiovascular medicine at Drexel University in Philadelphia and proceeded to do a fellowship in Advanced Cardiac Imaging at the Cleveland Clinic in Ohio. As a resident, he was inducted into the Alpha Omega Alpha society and has won awards for teaching both as a fellow and as faculty at Lancaster General Hospital. He has served on the International outreach Committee both as a co-chair and most recently as Chairman over the last two years. During this time, he has taught and helped to organize courses around the world focusing on increasing the utilization of CMR.  He serves on the Board of Trustees of SCMR. Lancaster General Hospital has participated in various research studies focusing on imaging including the PROMISE study, RESCUE study, ACRIN PA 4008. He has an interest in the use of multimodality imaging in cardiovascular disease with a specific interest in the complimentary role of Cardiovascular Magnetic Resonance

 

 

               

Tiffany Chen

MD FACC FASE

                        Dr. Tiffany Chen is an Assistant Professor of Clinical Medicine at the University of Pennsylvania. She obtained undergraduate degrees in Electrical Engineering & Computer Science and Biology at the Massachusetts Institute of Technology and her medical degree from Penn State University. She completed internal medicine residency at Brown University and cardiology fellowship at the University of Washington. She then pursued a fellowship in Advanced Cardiovascular Imaging at the University of Pennsylvania. Her primary clinical and research interest is in multimodality imaging for structural heart disease interventions using 3D echocardiography, cardiac CT, and cardiac MRI. She has published several book chapters and reviews on interventional imaging. In terms of national leadership, she is active in the American Society of Echocardiography as a member of the ImageGuide Registry committee and the Rising Stars Task Force, in addition to serving as an ASE representative in the ASE / IAC workgroup that works towards establishing centers for quality imaging. She is also involved in the Society of Cardiovascular Computed Tomography as a member of the Education Committee. Her other interests include utilizing social media to promote cardiac imaging and global outreach. She has previously participated in outreach programs in Ecuador and Vietnam.

Sanjaya Viswamitra

MBBS, DABR, DABNM

 

                            Dr. Sanjaya is the Head of Department of Radiology, Sri Sathya Sai Institute of Higher Medical Sciences, Bengaluru.

His current positions also include MRI consultant, Ramaiah Memorial Hospital, Bengaluru, Faculty, Associate Professor, Department of Radiology, University of Arkansas for Medical Sciences, Little Rock, AR and an Adjunct Faculty, Center for Neurosciences, Indian Institute of Science, Bengaluru, India

He completed his Nuclear Medicine Fellowship from Hospital of the University of Pennsylvania, Philadelphia, PA in 1995 and went on to do his Diagnostic Radiology Residency from St. Luke's Roosevelt Hospital Center Columbia University College of Physicians & Surgeons New York, NY in 1999. Subsequently, he did his Body Imaging Fellowship from Thomas Jefferson University Hospital, Philadelphia, PA in 2000. Presently, he is a reviewer for AJR and Radiology.

He is the current President of Indian Association of Cardiac Imaging, a position which he has held since 2016.

 

Dr. Elizabeth Joseph

MBBS, DMRD, DNB (RD)

              Dr. Joseph is a Professor in the Department of Radiology, Christian Medical College, Vellore. Her interests are in Cardiac CT and MRI (adult & congenital). She is the founder president of Indian Association of Cardiac Imaging (IACI)

 

 

 

Dr. (Major) Vimal Raj

FRCR, CCT (UK), EDM, PGDMLS

Dr. Vimal is a Consultant Cardiothoracic Radiologist and Lead Radiologist at Narayana Hrudyalaya Hospital, Bangalore, India. He is an expert in Cardiac Imaging in adult and congenital heart disease. He is also a specialist in Thoracic imaging with special focus on ILD and pulmonary hypertension. With over 75 articles in indexed journals and author of FRCR textbook, HRCT handbook and multiple radiology chapters and a  LANCET publication (Patent in post mortem CT coronary angiograhy catheter), he delivered multiple international and national invited talks. He is also a recipient of NATO medal for operational service in Afghanistan.

Dr. Mamatha R. Gowda

 

                Dr. Gowda is a radiologist with over 15 years of experience in diagnostic radiology. Dr. Gowda received her medical degree from Kempegowda Institute of Medical Sciences, Bangalore, India. Dr. Gowda completed her radiology residency at The Long Island College Hospital, Brooklyn, NY. She received her advance fellow ship training in Cardiovascular Imaging from Hospital of the University of Pennsylvania, PA.

Dr. Gowda is currently practicing as a cardiothoracic radiologist at Staten Island University Hospital, Staten Island, NY. Dr. Gowda's interest include Coronary Calcium Scoring in preventing premature cardiovascular disease, Aortic diseases, Infiltrative heart disease evaluation by cardiac MRI as well quality improvement in radiological imaging techniques.

 
Registration:
Registration Fee: INR 5000 per participant.
Limited to only 50 participants on a first-come-first-serve basis. 
 Registration is NON-Transferable. There is no provision to cancel registration and the amount is Non-refundable.
Registration includes: Registration kit, Breakfast, Lunch and 2 tea sessions on all 4 days.
Last Date for registration:

Saturday, 08-Feb-2020.
Accommodation to be arranged by the participants. A list of all the hotels around the venue is below. Please note that the below list is not comprehensive and the delegates may want to explore other options online.
Budget hotels :
Value hotels:
https://www.lemontreehotels.com/lemon-tree-hotel/bengaluru/whitefield.aspxhttp://www.radhahotels.com/radha-Hometel-bengaluru/index.asp
 Luxury hotels: