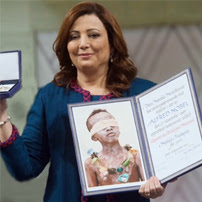 Madam Ouided Bouchamaoui, Noble Peace Prize co-laureate 2015 from Tunisia visited SSSIHMS, Whitefield on 17th November 2018 enroute to Puttaparthi to participate in the ladies day celebrations.  She was amazed at the work being done so silently at such a magnitude by...
read more
"Health care is not just medical care. Medical care is one of the components of what you all are doing. Actually healthcare is medical care, education and nutrition. Health care happens only when all these three are combined…you are doing all the three… An antiballistic missile has been launched by Bhagawan against poverty: Through education, water and health care".
Dr.A.P.J.Abdul Kalam,
Former President of India
—————————————————
"I have never seen anything like this on Earth…it is a wonderful geeling far removed from the national healthcare in the west which does not seem to work very well…the impressive thing about the Hospital created by Bhagavan Sai Baba is the combination of the three aspects: state-of-art technology; free medical treatment and the healing powers of His presence instilling in the patient the firm belief that he/she will get well; this is something I believe western healthcare would do very well to consider"
Dr.Michael Nobel
Chairman of the family society's board of directors and chairman of the Appeal of the Peace Prize Laureates Foundation.
—————————————————–
"The vision, compassion and professionalism of yourself and the members of the Sri Sathya Sai Institute of Higher Medical Sciences is, and remains, an inspiration for all of us. It makes us all feel good to be human and be a small part of sucha wonderful dedication to our fellow man."
Mr.David F.Moxam,
President and CEO, Authentix, Inc. Dallas Texas, USA
——————————————————-
"We literally bathed in the healing space created through Baba's loving vision…What we say was the highest level of technology, with some equipment even newer than the equipment we use at Duke Medical Centre. But the technology was dwarfed by the context into which everything in the Hospital dwelled – health care in God's service.
Dr. Mitchell W Krucoff,
Professor of Medicine/Cardiology, Interventional Cardiology, Duke University Medical Centre and Director, Cardiovascular Laboratories, Durham VA Medical Center.
——————————————————–
"The Sri Satya Sai Institute of Higher Medical Sciences is a wonderful contribution of Bhagawan Sri Satya Sai Baba. To have a free and modern hospital for the poor people of India was a dream and pledge of our leaders in the freedom struggle. This is a realization of the dream of Gandhiji and Jawaharlal Nehru. It represents our spiritual heritage. One feels proud after going round it. This can be a model for all the developing countries as well as the developed world. The developed world has these facilities but not for the poor. May this example be followed by others. It is not only a medical but a spiritual contribution of India. With respectful Pranams to revered Swami."
Sri Kishan Kanth,
Former Vice President of India, In the visitor's book at SSIHMS
————————————————————
" It is breath-taking to see the Power of Love transform nothing, into the creations that are manifest in this Place. Truly remarkable, truly awe-inspiring, and truly marvelous. I pray that the Spirit that made all this possible will make me contribute to the growth of this Spirit and Place. "
Noah Samara,
CEO World Space Digital Radio
————————————————————
I just saw the hospital and asked the person who was taking me around, " Is it a hospital or a temple?" The impression I get is, yes, it is a hospital. There are patients though the structure is like a temple. Everywhere we see Baba's photographs. Can every hospital, every institution in this country be a cohesive model of both a hospital and a temple? That should be our goal.
Dr. Gowri Devi,
Director, National Institute of Mental Health and Neuro Sciences